Companies related to roads and railways may apply for advertising during the conference. The following marketing and corporate advertising opportunities are available:
• advertising in the conference proceedings on 1/1 page (900 EUR),
• a presentation on boards set up in the conference areas (700 EUR),
• exhibition spaces (average 300 EUR/m2, includes registration of 1 participant).
We hope that companies will recognize the conference as a useful marketing opportunity to present their activities, products and business potential to a targeted audience.
Exhibition area layout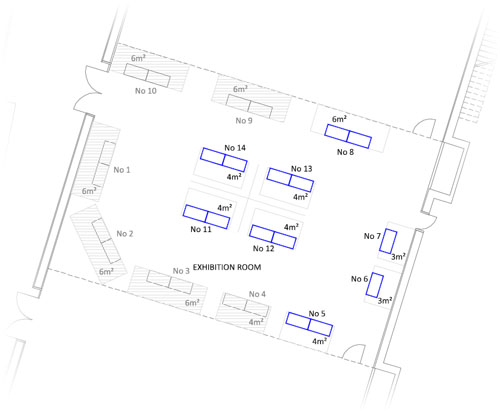 For a larger, printable layout please click here.
Donations
Companies are also welcome to make a donation to the conference, which represents a venue for the exchange of knowledge, innovativeness, experience and expertise in the fields of road and railway infrastructure.
Depending on the donation – in the amounts of 5.000, 3.000 or 2.000 EUR – the company can become a Gold, Silver or Bronze conference donor, respectively.
Sponsorship opportunities
Benefits
Gold
5.000 EUR
Silver
3.000 EUR
Bronze
2.000 EUR
Company logo on all printed matters and on CD covers
✓
✓
✓
Inclusion on sponsorship list in printed programme
✓
✓
✓
Sponsor presentation within conference CD and link to website
✓
✓
✓
Company logo on the CETRA website with links
✓
✓
Company logo/branding on Conference T-Shirts
✓
Company logo/branding on Conference Pens
✓
Promotional material (up to 8pp) within the conference bag
✓
Meeting room sponsorship – logo on display outside room
✓
Exhibition space
✓

Company logo on conference bag
✓
Promotional material (up to 4pp) within the conference bag
✓
Number of participants at the conference
2
1
You can obtain detailed information on marketing presentations and donations by contacting: cetra@grad.hr.