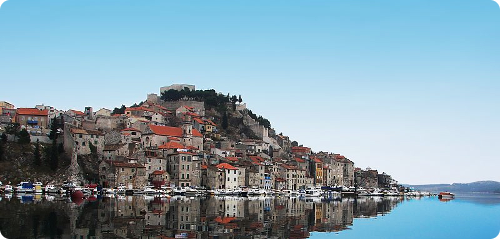 Šibenik is the first town in the world to benefit from electric lighting. In fact, on 28 August 1895, the alternating current electric lighting was activated for the first time in the streets of Šibenik. The merit for this certainly goes to the inventor, visionary genius and researcher of Croatian descent, Nikola Tesla, whose alternating current discovery lighted up streets and squares of Šibenik. The Šibenik power plant was the first alternating current power system in Croatia, the first commercial hydro power plant in Europe, and the second one in the world. It was put in operation on 28 August 1895 at 20:00, two days after the Adams Power Plant on the Niagara Falls.
Getting there
By car
Šibenik has excellent connections with the rest of Croatia and Europe. The new Split–Zagreb A1 motorway (popularly called " Dalmatina") reduces the almost 340 km journey to mere 2,5-3 hours of enjoyable car-ride from Zagreb.
By plane
Nearest airports are Split (45km to the southeast) and Zadar (50km northwest). Local buses run from Split and Zadar airports to the relevant city bus stations, where you can get an onward service to Šibenik. Journey times to Šibenik from Zadar bus station hover around the 1hr 30min mark; from Split expect around 1hr 50min.
Shuttle service from airports
To find out more about transfers to and from Solaris Beach resort on the dates of the conference and to request a transfer, please click here.
More information