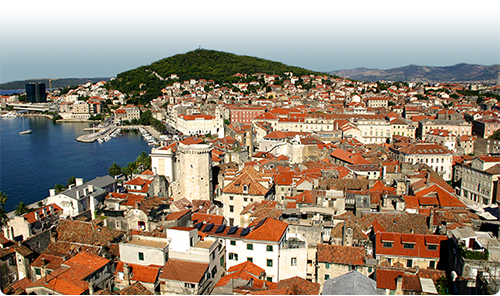 Split is a Mediterranean city, situated on the Marjan peninsula at the centre of the eastern Adriatic coast. Because of its favourable geographical position, Split has a typical Mediterranean climate, with long, dry, warm summers and short, mild, rainy winters (yearly average of 900 mm of rain). The average summer air temperature in Split is 26°C (79°F), with 12 hours of direct sunlight (year-round average of 7 hours).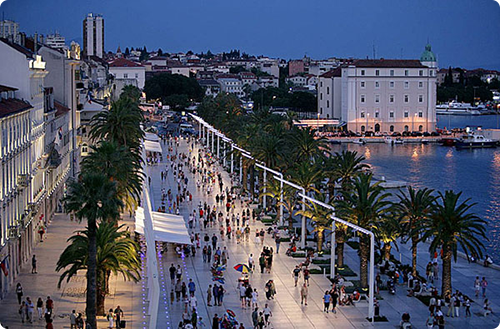 Split is the cultural and political centre of Dalmatia (a historical region, once much larger, now stretching from the city of Karlobag further north along the coast to the Cape Prevlaka near Dubrovnik), and is the official seat of the Split–Dalmatia County. Approximately 180 000 people live in Split, making it the second-largest city in Croatia. It is also the jumping-off point for exploration of the coast and islands of the beautiful Croatian Adriatic.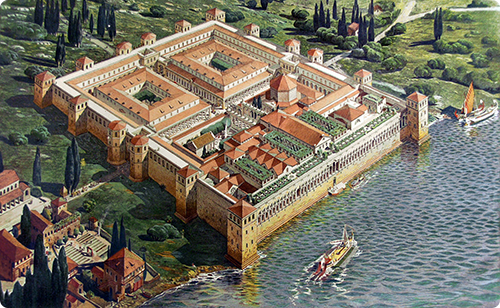 The official history of Split stretches back for 1700 years, when the Roman emperor Diocletian built his palace (emulating the form of the Roman military camp) as a place to which he would retire after stepping down from the imperial throne. However, preceding Diocletian's palace, the site held the Greek colony Aspalathos, meaning the plant called Spanish or weaver's broom (Spartia juncea). The plant is still numerous, especially on the southern slopes of the park-forest Marjan.
Many of Split's historical and cultural buildings can be found within the walls of Diocletian's Palace. In addition, it boasts several museums (including the Archaeological Museum, the Museum of Croatian National Monuments, and the Split City Museum), several galleries, theatres (Croatian National Theatre, City Youth Theatre, and the City Puppet Theatre), and cinemas. Split is also a university seat and host to numerous scientific institutions.
Getting there
Split has excellent connections with the rest of Croatia and Europe. The new Split–Zagreb A1 motorway (popularly called " Dalmatina") reduces the almost 400 km (250 mile) journey to mere 3,5–4 hours of enjoyable car-ride. Daily ferry lines connect Split and Ancona, and regular and charter flights are available at the Split airport.
Split Airport is, after Zagreb Airport, the most important in Croatia. Scheduled services fly to major European cities, with summer charter flights from more. The airport is about 25 km west from Split, near the city of Trogir. Airport buses run from the terminal to the city and stop at the eastern end of 'Riva'. A single ticket costs 30 kn. Local buses run from the road outside the terminal -- walk through the parking lot and go to the bus stop on the other side of the road.