AFTERNOON PROGRAMME FOR ALL PARTICIPANTS
Sunday, 27th April 2014 - 19:30h - 21:30h
A WELCOME COCKTAIL FOR PARTICIPANTS AND GUESTS
Location: Radisson Blu Hotel Lobby
Monday 28th April 2014 - 18:30h - 22:00h
STELLA CROATICA & Dinner at Etno Village ZAGORA
Stella Mediterranea
The world of sustainable tourism

Take a tour of our manufacturing company
See how we produce our products
Taste our sweet delicacies "Stella Croatica"
Visit our Ethno Village "Zagora"
Discover the old way of life through the architecture & ethnic collection
Relax during a wine & cheese & olive oil tasting

For more info on Stella Mediterranea please click here (PDF)

Buses from Radisson Blu Hotel to Stella Mediterranea and back will be organized. You will receive further information on the Conference.
Tuesday 29th April 2014 - 20:00h - 23:00h
GALA DINNER
Location: Radisson Blu Hotel Restaurant
CONFERENCE TOURS
Conference participants and accompanying persons are invited to attend some of our exciting social tours. Each tour requires a minimum of 20 persons. You can apply for the tours by mail (cetra@ulixtravel.com) or at the lobby during the Conference.
Split – Diocletian's palace private walking tour
Duration: 1.5h
Price: 20 € per person (minimum for group 10 pax), with tour guides
Price Includes: Official tour guide, water
Not included in the price: pick up and drop off from the hotel (15 € per person)
DESCRIPTION
With professional tourist guide we are continuing our journey and sightseeing the 1700 year old Diocletian`s palace in Split, imagining how the life of Diocletian was like, within the walls of the palace. During the tour we stop by to see the Cathedral of St Duje, the ancient cellars, Peristyle in center of the palace, Roman temples (today Christian ones), the famous Golden Gate and the big statue from Grgur Ninski. On this walking tour you will get to know the Split town and his history in the interesting way. We would be glad to give you suggestions regarding restaurants and shops to make this trip a memorable one!
Krka Waterfalls & Trogir small group tour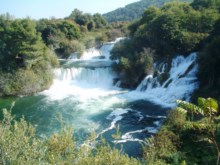 Duration: 11h
Price: 50.00 € per person
Price Includes: Pick up and Drop off, Official tour guide, Entrance tickets, lunch
DESCRIPTION
After picking you up at the pre-arranged meeting point or at your hotel, our excursion to one of the most popular sites in Dalmatia begins by driving along the border between the coast and the hinterland. In less than an hour, you will be greeted with a breathtaking view of the town of Trogir and Split surrounded by the sea and a landscape filled with greenery, village households and life.
Then it's on to Krka National Park and Skradinski buk, one of the best known natural beauties of Croatia. We'll begin our nature walk to enjoy the rich diversity of flora and fauna through a network of forest pathways as well over wooden bridges. After about 90 minutes, our minivan will then take you to Roski slap, a beautiful, quiet, untouched natural preserve perfect for swimming and relaxation. After the break you will have the opportunity for an optional lunch in a typical Dalmatian konoba (tavern) where you can taste local delicious traditional food like prosciutto, cheese, hearty bread and wine and local fruits and vegetables. Or after Krka National Park we will be taking a bus to a town of Trogir where you will have a tour of the city with a guide and will get some free time to do some shopping and exploring. You can option to have a lunch here in the town of Trogir, also a traditional Dalmatian lunch.
LUNCH - Traditional Dalmatian lunch (meat or fish menu)
We offer 2 options:
Lunch at a restaurant in Skradinski Buk (after Krka waterfalls)
Lunch at a restaurant in Trogir (after a tour of Trogir with a guide)
Split – Ivan Meštrović Gallery tour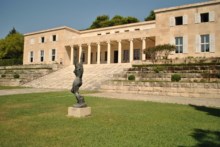 Duration: approx. 4h
Price: 50 € per person
What's included: walking tour, official local tourist guide, entrance fee to the gallery, two-way drive to the gallery.
DESCRIPTION
After meeting your tour guide our tour starts through ancient history of Split. You will walk through the Docletian`s palace and one part of the old town. During the tour we stop by to see the Cathedral of St Duje, one of the most beautiful cultural wonders on the Adriatic coast but also the ancient cellars, Peristyle in center of the palace, Roman temples (today Christian ones), the famous Golden Gate and the big statue from Grgur Ninski. Then our tour continous drving towards gallery Mestrovic. The Ivan Mestrovic Palace, now gallery, was built in Split between 1931 and 1939. Mestrovic himself made the original plans based on his own design. Your tour guide will take you on a tour throught the garden and the gallery where you will see the intereting and unique art of Ivan Mestrovic.,
NOTE
All reservations are to be maid at the CETRA excursion registration desk, which will be located in the lobby of the hotel, Radisson Blu, Split.
Reservations are to be maid at least 24 hours before the excursion.
Minimum for a group is 20 people.